A music scholar in love with the sounds of India
India Abroad, July 13 2012
A music scholar in love with the sounds of India. Article by Arthur J Pais – India Abroad, July 13 2012 
Fra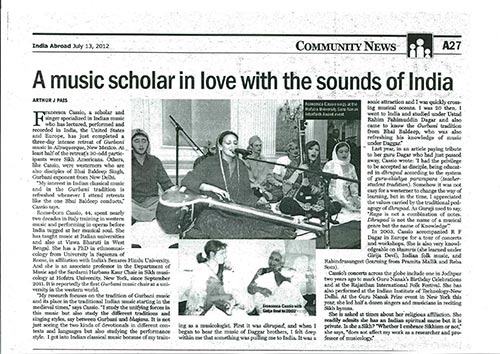 ncesca Cassio, a scholar and singer specialized in Indian music who has lectured, performed and recorded in India, the United States and Europe, has just completed a three-day intense retreat of Gurbani music in Albuquerque, New Mexico. At least half of the retreat's 30-odd partic­ipants were Sikh Americans. Others, like Cassio, were westerners who are also disciples of Bhai Baldeep Singh, Gurbani exponent from New Delhi. "My interest in Indian classical music and in the Gurbani tradition is refreshed whenever I attend retreats like the one Bhai Baldeep conducts," Cassio says. Rome-born Cassio, 44, spent nearly two decades in Italy training in western music and performing in operas before India tugged at her musical soul.
She has taught music in Italian universities and also Viswa Bharàti in West Bengal. She has a PhD in ethnomusicology from University La Sapienza of Rome, in affiliation with lIndia's Benares Hindu University. And she is an associate professor in the Department of Musica and the Sardami Harbans Kaur Chair in Sikh musi­cology at Hofstra University, New York, since September 2011. It is reportedly the first Gurbani music chair at a uni­versity in the western world. "My research focuses on the tradition of Gurbani music and its place in the traditiorial Indian music starting in the medieval times," says Cassio. "I study the unifying forces in this music but also study the different traditions and singing styles, say between Gurbani and bhajans. It is not just seeing the two kinds of devotionals in different con­texts and languages but also studying the performance style. I got into Indian classical music because of my training as a musicologist. First it was dhrupad, and when I began to hear the music of Daggar brothers, I felt deep within me that something was pulling me to India. It was a·Sonic attraction and I was quickly crossing musical oceans. I was 20 then. I wènt to India and studied under Ustad Rahim Fahimuddin Dagar and also carne to know the Gurbani tradition from Bhai Baldeep, who was also refreshing his knowledge of music under Daggar."
Last year, in an article paying tribute to ber guru Dagar who had just passed away, Cassio wrote: 'I had the privilege to be accepted as disciple, being educat­ed ih dhrupad according to the system of guru-shishya parampara (teacher­-student tradition). Somehow.it was not · easy fora westerner to change the way of learning, but in the time, I apprèciated the values carried by the traditional ped­agogy of dhrupad. As Guruji used to say, "Raga, is not a combination of notes. Dhrupad is not the name of a musical genre but the name of Knowledge". In 2003, Cassio accompanied R F Dagar in Europe for a tour of concerts and workshops. she is also very knowledgeable on thumris(she learned under Girija Devi), indian·folk music, and Rabindrasangeet (learning from Pramita Mallik and Reba Som).
Cassio's concerts across the globe include one ih Jodhpur two years ago to mark Guru Nanak's Birthday Celebratjons and at the Rajasthan International Folk Festival. She has also perfomed at the Indian Institute of Technology – New Delhi. At the Guru Nanak Prize event in New York this year, she led half a dozen singers and musicians in reciting Sikh hymns. She is asked at times about her religious affiliation. She readily admits she has an lndian spiritual name but it is private. Is she a Sikh? "Whether I embrace Sikhism or not," she says, "does not affect my work as a researcher and professor of musicology."